Rhinestones: Glam and Glitter
Rhinestones take center stage this fall, adorning eyes, lips, and brows with glitz and glamour. This trend allows you to unleash your creativity and experiment with various rhinestone designs. For a bold and eye-catching look, apply rhinestones along the lower lash line or on the inner corners of the eyes. You can also create stunning lip art by embellishing your favorite lip color with rhinestones. The endless options make rhinestones a must-try trend to elevate your fall makeup game.
Wet Skin Effect: Luminous and Radiant
This fall, achieve the coveted wet skin effect to exude a radiant and dewy glow. The trend involves using products that create a fresh and moisturized appearance as if your skin is glistening with a soft sheen. Start with a hydrating primer and a luminous foundation or tinted moisturizer. Add a touch of liquid highlighter to the high points of your face, such as the cheekbones, brow bones, and nose bridge. The wet skin effect imparts a youthful and ethereal charm, perfect for the enchanting ambiance of fall.
Dark Lips: Rich and Alluring
Embrace the allure of dark lips this fall with rich shades of plum, burgundy, and deep berry. Dark lips exude confidence and sophistication, making them a staple for the colder months. Pair your dark lips with a flawless complexion and minimal eye makeup to let the lips take the spotlight. Whether you prefer a matte or glossy finish, dark lips make a bold statement that effortlessly elevates any look.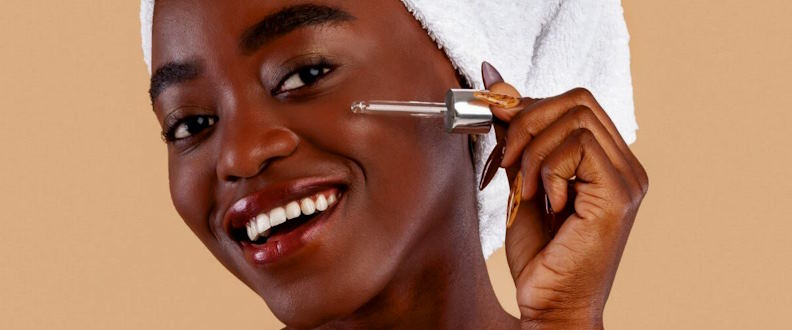 Embracing the Fall Spirit
Fall is the season of transformation and embracing change, making it the perfect time to explore new makeup trends. Rhinestones, wet skin effects, and dark lips offer a range of expressive possibilities, allowing you to play with textures, colors, and finishes. These trends allow you to step out of your comfort zone and infuse your beauty routine with glamour and allure.
Tips for Embracing Fall Trends
Experiment Fearlessly
Don't be afraid to experiment with rhinestones, wet skin effects, and dark lips. Makeup is a form of self-expression, so have fun and let your creativity shine.
Prep Your Skin
Achieving the wet skin effect starts with well-hydrated skin. Prioritize skincare with moisturizing products to create a flawless canvas for makeup application.
Choose Your Rhinestone Design
Play with different rhinestone designs to find the one that suits your style. From minimal accents to elaborate patterns, there's a rhinestone look for everyone.
Dark Lip Options
Experiment with various dark lip shades to find the one that complements your skin tone. Consider satin, matte, or glossy finishes for different effects.